Iowa Corn is proud to sponsor Iowa Corn Day at the Iowa State Fair on Friday, August 20, 2021. Fairgoers will have the opportunity to participate in a scavenger hunt across the fairgrounds to learn from Iowa corn farmers about their family farms and how corn helps feed and fuel both Iowa and the world. There will be seven farmer cutout stations scattered throughout the fairgrounds. Scan the QR code to learn about each Iowa corn farmer and chat with farmers along the hunt. By completing all the stations and returning the card to the Iowa Corn tent, fairgoers will receive a $5 coupon to enjoy a corn-fed treat at the Cattlemen's Beef Quarters, Cluck'n Coop, Iowa Pork Tent, or the Turkey Tent as well as enter to win a grand prize of a Grizzly cooler, Fareway meat bundle and Iowa Corn swag. Scavenger hunt cards will be available at the Iowa Corn tent on the Grand Concourse.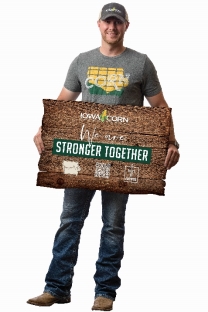 The interactive Iowa Corn Mobile Education trailer will also be on the Grand Concourse. The 40-foot state-of-the-art mobile trailer takes visitors on a multi-media journey showing how Iowa corn farmers conserve their land while growing corn that's used for food, feed, fuel, and the 4,000 other products made from corn.

When: Friday, August 20, 2021, from 9 a.m. to 5 p.m.
Where: Iowa Corn tent at the Iowa State Fair Grand Concourse
For More Information:
Brandi Strautman, Public Relations Manager, bstrautman@iowacorn.org, 515-225-9242