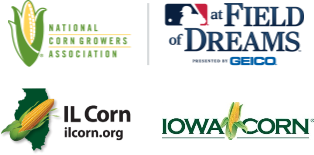 Major League Baseball (MLB) announced today that the National Corn Growers Association (NCGA) has agreed to become an official partner of this summer's MLB at Field of Dreams presented by GEICO event. The game will be played at a newly constructed ballpark adjacent to the Field of Dreams movie site in Dyersville, Iowa on Thursday, August 12th and will be broadcast nationally on FOX.
"NCGA brings an authentic voice of the American corn farmer to this unprecedented game," said Bill Morningstar, MLB Executive Vice President, Sponsorship Sales. "This organization is a perfect fit to sponsor a game nestled in a cornfield, just like the film we will celebrate. We are delighted to welcome the NCGA on board as an official partner of an event that will be memorable for all sports fans."
The game between two historic franchises – the Chicago White Sox and the New York Yankees – will be played, as in the film from Universal Pictures, amongst fields of Iowa corn, in all its mid-August glory, as a backdrop. "This is a first-in-a-lifetime event to see two professional sports teams from two of America's biggest cities play a game in a field of corn," said NCGA President John Linder, a corn farmer from Ohio. "This creates a unique opportunity to tell the story of the American corn farmer to the American public in a creative and highly entertaining way."
NCGA's partnership of this event is made possible through the generous support of the Illinois Corn Marketing Board (ICMB) and the Iowa Corn Promotion Board (ICPB).
"This is a terrific opportunity for us to provide a connection between local farmers and their communities," said Dirk Rice, ICMB Chairman and Philo, Illinois farmer. "There may not be a better place to build that relationship than the ballpark. We are excited to share who we are and how we farm with baseball fans around the country."
"There is nothing more American than baseball and farming, and we are excited to have them come together on a century-old family farm in a rural Iowa cornfield," said ICPB President and farmer from Independence, Iowa, Greg Alber. "Our goal is that baseball fans leave with a sense of pride, not only in the team they are rooting for, but pride in our American corn farmers and an appreciation for agriculture."
The corn growers have a host of activities planned around the game. Visit ncga.com/bornforthefield to learn more about their plans for MLB at Field of Dreams.
For More Information:
Julie Busse, NCGA, 309-338-4113
busse@ncga.com